Diesel Don 256-259-7728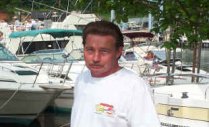 Many years ago I met Diesel Don. He had been recommended to a friend as a great diesel mechanic that would travel. As it turned out, we went along with my friend to Ft. Lauderdale, Florida to pick up his recently purchased 53′ Hatteras. It was so wonderful to go on a yacht delivery with a person that knew a diesel engine inside and out. Not only that, but he was able to repair air conditioners, heads and many other systems on that boat.When we got to Ft. Lauderale, we took a little sea trial. It turned out that the starbord engine lost a fuel injector. When we got back to the pier, Don went down into the engine room and came out in a few minutes with the bad injector. Within a few hours we had a new one installed and were on our way home with the boat. I have come to the conclusion that Diesel Don is the most versitle mechanic within the North Alabama area. He brings his 44′ trailor/shop with him and spends a week at a marina working on boats. In is trailor/shop he has parts cleaners, hose makers, filters, oil and everything that he needs to repair boats. If there is something that he does not have he has a resource to get it usually within 24 hrs. He is also proficient at repairing gasoline engines. If you are on a trip, he will travel reasonable distances to take care of your issue. Last summer, he went to Vicksburg, Mississippi to install a new transmission for Jim Longshore in his 44′ Carver. There is nothing more comforting then knowing who is doing the emergency repairs on your boat. Diesel Don also specializes in pre-purchase mechanical engine surveys, including engine oil analysis. This survey gives the buyer confidence that nothing major is wrong with the engine. If you need boat repairs, Diesel Don is the man for the job. You can contact him at 256-259-7728 on his cell phone.
---
J's Landing At Steenson Hollow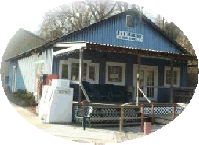 J's landing provides boat repair, transient slips for traveling boaters, dry storage, and other marina related services. Our facility is in a nice setting and we have the equipment to haul boats up to 50 feet. Please come by and see what we can offer you.From bottom painting, compounding and waxing to engine work and systems work we have the facilities and staff to meet local and traveling boaters needs. We have years of experience and being boaters ourselves we are aware of what it takes to satisfy our customers. Come by and see our facility and meet our staff and let us show you our abilities. We offer gas for boats and can arrange to have diesel delivered with reasonable notice. We have some groceries and ship store supplies. If you need a ride to the store or a restaurant we can arrange that too. We have pump out facilities and fresh water for your tank. With our dry storage service we can store your small boat in a secure facility, protected from the elements. We can have your boat in the water with reasonable notice for your use. When you are finished using your boat we will secure it and place it back in its rack. We can also prepare your boat before and after use.
You may contact Jeff Wilcoxson on his cell phone at 256-762-2111
or Jeff Wilcoxson, Jr. at 256-762-2003
or Keith Mullen regarding dockage and fuel 256-443-9809
We also have boat sales not related to Jaysboats.com
We are located just above Wilson Lock at mile 259 on the Tennessee River left descending bank.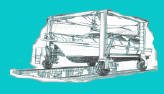 **** 30 Ton Travel Lift – Dry Storage – Fuel – Boat Repair – Bottom Paint – Convenience Store ****
J's Landing
Steenson Hollow
700 Tennessee River Dr.
Muscle Shoals, AL 35661
256-383-7859